Well, it seems I'm on a different wavelength than everyone else again! For my participation this week, I decided to write a holiday snippet and have anyone who wants to participate fill in the equation:
(number of santa(s)) + (number of gift(s)) = (number of Christmas(es))
The 2nd and 5th people who comment here with the correct answer will win this beautiful star photo frame! (Hunk not included).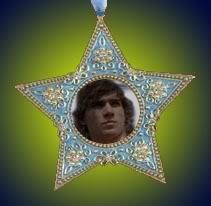 For everyone else that doesn't fall on the lucky number, I'll pull a random name from my Santa hat. So get to reading, time's a wasting until the cut off on Christmas Eve! And as always, I hope you enjoy the story!
__________________________________
A whole week off. That was a miracle in itself.
She pulled into the parking lot of the local mall, her eyes scanning the rows that filled the space for miles. As she sat trapped, waiting behind one lucky shopper, she read the lighted marquee that flashed pertinent events during December.
Open from this to that. It was 6:45 p.m., 53 degrees. A new store was opening two weeks before Christmas, and would be running Christmas specials through the holidays. Santa was in court at the Palace from morning til night.
She felt sorry for him, but hoped she could detour around the crowds when she got inside. Obviously she'd have to be luckier than she was out here. Christmas was a great time, but the rat race could kill you. Kind of like her job, she thought with a grimace. But she didn't have to worry about that for another five days.
Suddenly a bit of luck crossed her path and a spot opened up. Overjoyed she whipped her car in it and hopped out.
Shopping here I come.
Christmas was the best excuse for a buying binge, and little did her husband know that she'd borrowed one of his cards. A sly grin curved her lips, but she'd only use it in an emergency. Like that pair of shoes she'd been eyeing for a month.
Her steps sounded on the pavement as she took in the hustle around her. She'd never seen so many people! Or Santas for that matter. There was a Santa collecting money for the Salvation army, a Santa serving coffee at the book shop cafe, a Santa flag strapped to the front of a truck. As far as she could, Alamance's stores wouldn't be able to say it was a bad Christmas rush this year.
She dropped a few coins in Santa's pot and stepped through the door to find Christmas music flooding the halls and lights everywhere.
I've been away for too long.
She took her Christmas list out of her pocket. Five presents left to find, but two were gonna be doozies. Her dad was always a pain to shop for, and as for her daughter's new boyfriend she hadn't a clue. She'd just have to hope inspiration hit her…fast!
Hallmark was her first stop to pick up a tiny, collectible figurine for her mom. The perfect, if boring choice, would make her smile. She remembered Christmas last year when she'd opened her gift from her mom. It was small, but heart felt. For this holiday that's what was supposed to matter most, and she knew her mom would treasure the little girl she held in her hand, because she never allowed herself a treat since finances were so tight. Brainstorming another scheme, she wondered it Santa really was as clever.
With a half dozen Christmas cards, 16 Christmas napkins, and a roll of ribbon she was out of the first store bearing Santa as her shopping logo too. The large red bags everyone was totting plastered with his face. Glowing red cheeks, and a poofy white beard, but there was also that little hint of something extra. As if this Santa had a secret. She knew she did.
An hour later her cheer hadn't faded, but some of the parents tending their children had grown tired of the constant chatter and noise of being stuck amid more than a few dozens little people clammering for a chance to tell Santa exactly what they wanted. She heard one boy repeating over and over, "I want Santa to bring me a bike, and a train, and a new Sega game! Do you think Santa will do that mom?" His mom looked down at him, and said something she'd liked repeated a hundred times so far this Christmas. "Of course dear, you've been a good boy." Another little girl further back, sat patiently on the lip of a planter, her big, blue eyes taking in the Christmas sights around her. When her mom motioned that it was her turn she jumped up, took one look at Santa, and ran away crying.
It really wasn't funny, but it happened, she thought recalling her own daughter's first look at Saint Nick. She's been two and had pretended to be so brave, but the moment she'd stepped up on the podium where he sat, she'd hightailed it. It had taken ten minutes to calm her down.
Hadn't she said she was going to avoid this? She moved around the outskirts of weary men waiting, their eyes glazed over. She knew what they were thinking—how did they do it?
Christmas was an eye opening experience, especially when window-shopping for that "perfect" Christmas...thing. She kinda knew what it was, but if a salesman asked her what she needed, she'd have to say, "It's...well, it's...I guess I'm just looking." Christmas was all about that and wishing for things you couldn't have. That was part of the magic. Sharing the memories, the Santa tales of hopes and dreams from years past, or just those funny once in a lifetime things that you'd never expected to happen in a million years.
She saw it—the last item she needed to finish her Christmas quest! A sweater in green she knew her daughter would find "hot" on her special someone. Not only was it the exact size, and a nice price, it was a Christmas color to boot! Things were definitely looking up. With all of her Christmas shopping done, she'd have a chance enjoy the times she treasured most.
One her way back down the mall, passing people who were in it for the long hall, she couldn't help being a little relieved. Giddy even on some level, which was an emotion she hadn't felt in years. Seeing that the line to Santa had shortened, she zipped in behind the last mother and daughter couple. The little girl, with dark hair and a baby doll under one arm looked up at her questioningly, her thumb in her mouth. She smiled at the little girl, and surprisingly got one in return. Then came the shy question, "What do you want Santa to bring you?" Thinking, she said the first thing that came to mind, which had been there all night. "That my family gets what they want most."
When her time came, she stepped up beside Santa and met his look for the child she was supposed to have with a grin. "Do you mind?" She gestured from herself to his lap. He turned redder than the color of his suit, then he remembered who he was and chortled, "Of course. Ho, ho, ho." She took her place, posed for the keepsake picture and then answered the question that he asked everyone. "For my family to know how much I love them, and..." she accepted the picture from Santa's elf, "this picture for my mom who showed me what Christmas is all about."
_________________________________
If you're concerned I won't be able to track you down through Blogger, feel free to send a copy of your comment along with your snail mail address to me at
skylar0masey@yahoo.com
, or simply enter your information using the form on my contest page at
www.maseysplace.com/contest.html
.