Here is my cover for TIES OF VALOR! Thought I'd share the super-sized version so you wouldn't have to squint at the thumbnail on the right bar. (Thanks for putting that up Lynda!)

I don't think it's bad for a first cover, though if you read the book I'm sure you'll notice (as I did right off) that some of the pretty picture's attributes aren't identical to the story inside.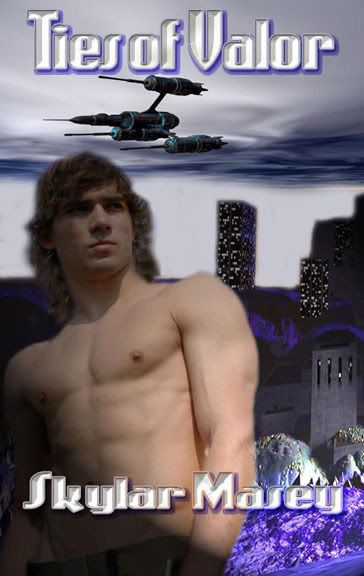 Awyn Shandar spots a ship plummeting toward his home world and races to the rescue. Little does he realize how feisty a woman he'll save or the war that will ensue after Voyager Zara Dior wakes to discover she's a prisoner awaiting trial.
With her freedom subject to a foreign Queen's mercy, Zara becomes the maurauding Vahezhno's linchpin in a devious plot to overthrow Aquilar's government. Honorably bound by his station, Awyn must protect her to safeguard his people's future…and fulfill the yearnings of his heart. Though their warrior wills clash, they must ultimately band together for a common goal—to keep Zara alive.

Will duty be Zara's homing beacon back to Sartin? Or can the love her father foretold truly overpower the ties of her valor? And at the moment of truth, will Zara's torn heart be strong enough to blend both opposing forces to save Awyn's people?